WATCH D.O.G.S. is an innovative K-12
program of the National Center for Fathering focusing on improving education in our nation's schools by using the positive influence of fathers and father figures.
WATCH D.O.G.S.® invites fathers, grandfathers, uncles, or other father figures to volunteer at least one day, all day, at their child's/student's school during the school year. Individuals sign up at a kick-off event such as a "Dads and Kids Pizza Night" or "Donuts with Dad" or in the office at any time throughout the school year.
Watch D.O.G.S. volunteer's perform a variety of tasks during their volunteer day including: Monitoring the school entrance, assisting with unloading and loading of buses and cars, monitoring the lunch room or helping in the classroom with a teacher's guidance by working with small groups of students on homework, flashcards or spelling.
The program is overseen by a "Top Dog" volunteer who partners with the school administrator to coordinate scheduling and identify opportunities for Watch D.O.G.S. to provide assistance at the school.
Questions can be emailed to cypresswatchdogs@gmail.com
Steps to joining WATCH D.O.G.S.
All WATCH D.O.G.S. need to be approved volunteers. To fill out the online application, Click on the GREEN tab to your left.
Submit your registration form (instructions below).
Order your official

WATCH D.O.G.S. t-shirt (instructions below).

Once you are an approved volunteer, sign up online for your shifts under the Volunteer Tab.
Registration Forms
Watch DOGS, new and returning, please fill out a registration form for the 2017-2018 school year. This form needs to be filled out every year to help keep your information current. For example, your child's name and their teacher's name is on this form. We use this information to help tailor your schedule to include time in your child's classroom.
You may print a form from this website (link on the left hand side of this page - REGISTRATION FORM) or pick one up in the school office. Follow the instructions on the bottom of the form. It should be turned in as soon as possible.
Watch D.O.G.S. Shirt
All WATCH D.O.G.S. are encouraged to wear this special shirt. The shirts are $15 and are available for purchase by:
Send a check to school: print the REGISTRATION FORM, located to the left. Fill it out (include information about your child) and send it, along with your check, to the school office. Please be certain to include your driver's license number and a valid phone number on the check. Make payable to: Cypress PTA. Shirts are delivered to approved WatchDOGS via their oldest child.
Order online: Under the Store Tab located above. Scroll all the way to the bottom to find the Watch D.O.G.S. t-shirts.
Proceeds from the shirts will go back to help fund the program.
Returning WATCH D.O.G.S.
Welcome back! You will need to fill out a new registration form for this school year (use the instructions above). You will also need to become an approved volunteer for the 2017-18 school year:
If you already have a t-shirt, you may use the one you have. If you do not already have a t-shirt use the instructions above to order one. Once you are approved, you may sign up for shifts under the Volunteer Tab. If you have any questions, contact Cheryl Carey at cypresswatchdogs@gmail.com.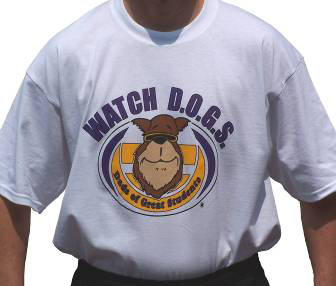 Front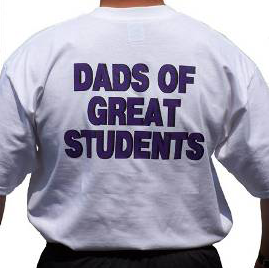 Back